Hey Bing – Your Local Listing Center is Broken.
I went to Bing today to fill out my local business listing info (which I recommend everyone to do). Unfortunately, I can't fill out my listing because their CAPTCHA is broken. I have a feeling it's been broken for quite some time.
Before I get too deep into this, can anyone verify this for me? I checked on both IE and Firefox and I can't see the CAPTCHA. I also checked it out on another computer and I still can't see it.
If this has been going on since the Bing Local Listing inception, this is quite an oversight. To Bing: Would you like to hire us to double-check your site out for you? 🙂 We would be glad to be of service.
Anyway, here is a screenshot of where I get stuck: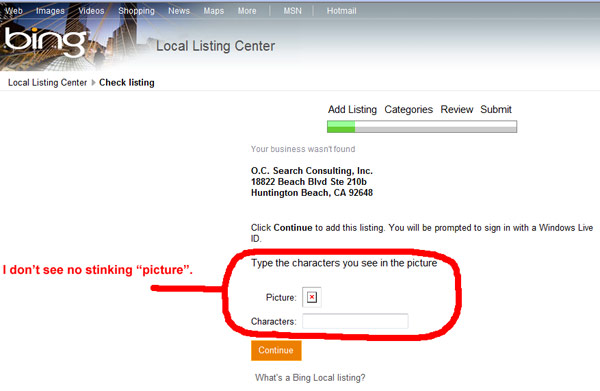 Engineers at Bing: Please fix this so we can add our businesses to your database. Thanks!
UPDATE:
Our friend Carlos went to check out the Bing Local Business Listing Center on his Mac from his cushy office at Napster.
Shortly after we released our post, he found that the Business Listing Center was down: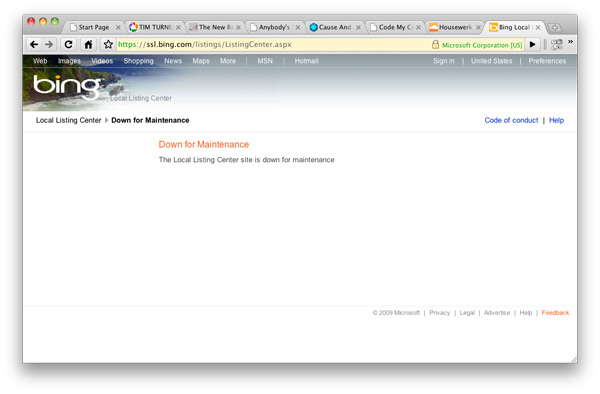 He went back a little later and got this wonderful message, saying that the Bing Business Listing Center doesn't support Mac users. OMG. Great customer service eh?