Google Places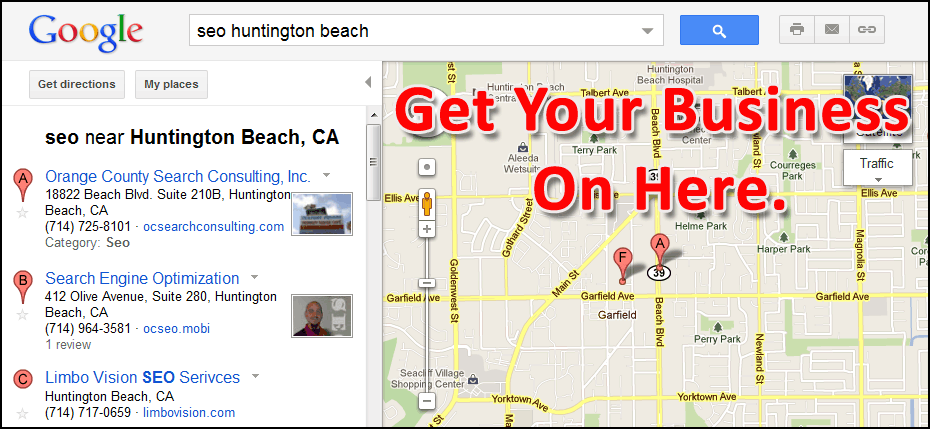 One of the quickest ways to get business these days is through Google Places and other local search services. We have an excellent track record of getting businesses found on Google Places. And the part is our entire approach doesn't require "spam" or "search engine trickery". It's 100% ethical and very effective.
Call us now to get started on the easiest was to promote your business today! (714) 725-8101
What is Google Places?
Google Places is a service for business owners to include their physical address and contact information to Google. Unlike simply submitting your website to the Google search engine, Google Places allows business owners to enter in specific information to Google like:
The business telephone number
The business address
Hours of operations
Coupons
Website address
Why is it important to Optimize for Google Places?
The beauty of Google Places is it allows businesses that don't have a website to be included in Google search results. Now, that doesn't mean if you have a website you can't use Google Places. Quite the contrary! Having a real physical business address actually improves your SEO!
Trust on the internet is a big deal. By proving that you have a physical address is a great way to earn trust point with Google.
Google Places is not just for small local businesses
Google Places optimization is also great for large businesses, corporations and franchises. One of the single fastest gains a large organization can have is to do proper Google Places optimization.
But my business is already in Google Places, why would we need to be optimized?
If you're already ranking number 1 on Google thanks to your Google Places submission – then congratulations! We commend businesses for taking a proactive approach to their internet marketing.
However, if you are ranking down the list and want to secure a stronger position, please contact us. We have a surefire way to improve your listing and keep you there.
If you are ranking #1, but you want some extra insurance that you'll stay there – then call us. We can help strengthen your position so that your business listing is less likely to move down the list.
Don't try to trick Google Places
We come across a lot of business owners who have tried to trick Google Places and have gotten their listing banned. DON'T TRY TO TRICK GOOGLE! Don't try to be sly or sneaky. It's never worth it.
A common practice is for business owners to create fake addresses around their town to try to come up more often in the search results. This is the number 1 way to get banned from Google Places.
Let us handle it. That's what we specialize in. If have been banned, we can help you with that too.
How can I get started?
We are experts at setting up businesses in Google Places. As a matter of fact, we are really good at establishing businesses at the top of the list because we know what Google looks for when they want to choose what business to be on top of their list.
Call us now to get started on the easiest was to promote your business today! (714) 725-8101